PV Squared Solar celebrates worker-owned cooperative milestone at Sanderson Place, Affordable Senior Housing in Sunderland
FOR IMMEDIATE RELEASE
August 3, 2023
Installing a solar system is about more than just renewable energy, it also empowers the community.
Pioneer Valley Photovoltaics of Greenfield, MA (or, "PV Squared Solar", for short) has been energizing a brighter future for people and planet throughout Western and Central Massachusetts, and Southern Vermont for over 21 years.
Renewable energy provides stability to communities and PV Squared is incredibly proud to have installed more than 16MW of solar for their neighbors in MA and VT as a worker-owned cooperative.
From their humble beginnings of installing a 2.2 kW commercial array at the Franklin Community Coop "Green Fields Market" in 2003, to the 928 kW system installed on the parking lot canopy and roof of River Valley Food Co-op's Easthampton store in 2022, PV Squared is pleased to continue to work with organizations who value sustainability, humanitarianism, and worker empowerment.
They are overjoyed to celebrate this milestone of their 2,000th installation in partnership with Valley CDC, Austin Design Cooperative, and Rural Development Inc for the affordable senior housing, Sanderson Place Community Project.
"We think of solar as the cherry on top." said Josh Hilsdon, Commercial Design & Sales Consultant at PV Squared. "Clean, renewable energy and quality senior housing are both desperately needed. We are delighted that the residents of Sanderson Place can be proud not only of their beautiful new homes, but also of the sustainable energy that is generated from their roof everyday.
PV Squared has provided its 21 years of solar design and installation expertise to this project over a six-year time frame. From our first meeting with RDI, to today's energizing ceremony, there has been constructive partnership at each stage.
The Sanderson Place project embodies our mission, to empower our community with clean local energy. In an era of rising energy prices, this solar array will stabilize and reduce operating costs for decades to come; supporting the project's long term affordability."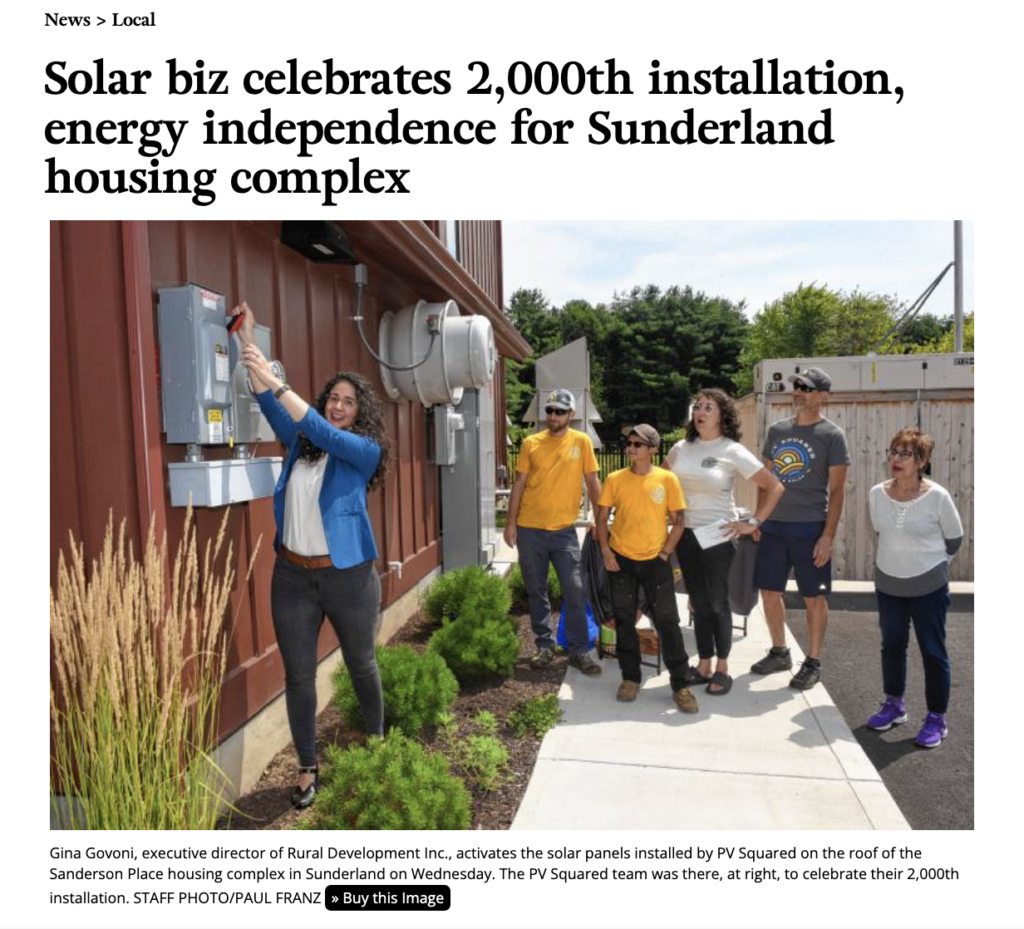 ##
The PV Squared motto: "Build solar right and do business better".
To see the coop difference check out these galleries to view their commercial and residential projects:
https://pvsquared.coop/commercial-solar/ and https://pvsquared.coop/residential-solar/
###
PV Squared Solar is a group of creators and problem solvers who believe in the power of cooperation. Their values about workplace democracy guide their business based on inclusion, respect, and mutual benefit.