Spring 2021 News & Updates
Spring 2021 News & Updates
---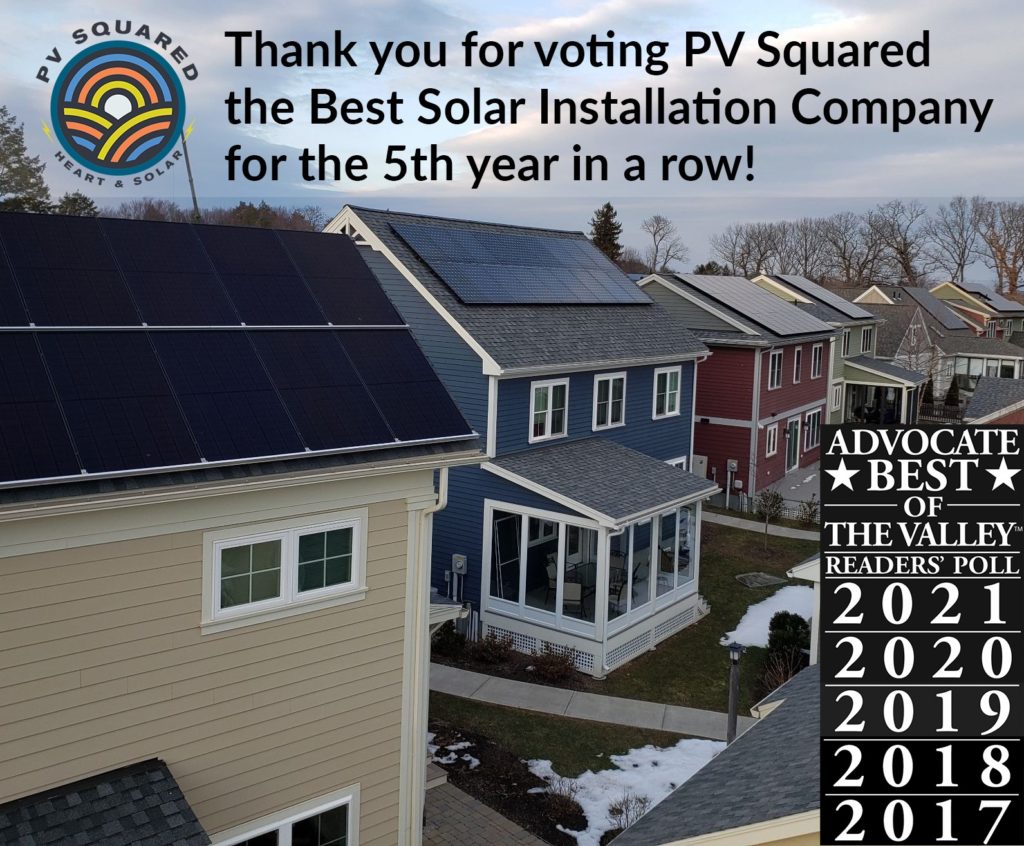 ---
We're making progress at River Valley Coop in Easthampton!
Our team is just about finished installing River Valley's 169.15 kW rooftop solar array on their new store in Easthampton. Next up is a 760.80 kW solar canopy for their parking lot!
This construction and solar project is a collaboration between many partners, including Coop Power, Solar Design Associates, Wright Builders, Berkshire Design Group, Crocker Communications, and more.
Stay tuned for solar canopy updates, and check out River Valley's Expedition Easthampton web page for a look inside the project. Additionally, if you're interested in becoming a member of River Valley, click here for more information.
---
13th and 14th solar systems donated to Pioneer Valley Habitat for Humanity homes
This spring we completed our 13th and 14th donated solar projects for Pioneer Valley Habitat in Shutesbury and Northampton! Both of these projects were installed at no cost to the homeowner and will provide ongoing utility cost savings in the decades ahead.
---
Green and Clean Series by the Greenfield Recorder
In April, PV Squared was featured in the Greenfield Recorder's Green and Clean series two weeks in a row.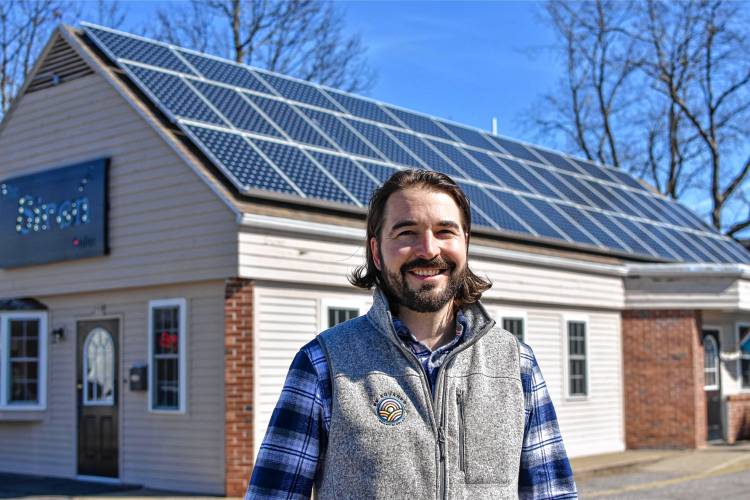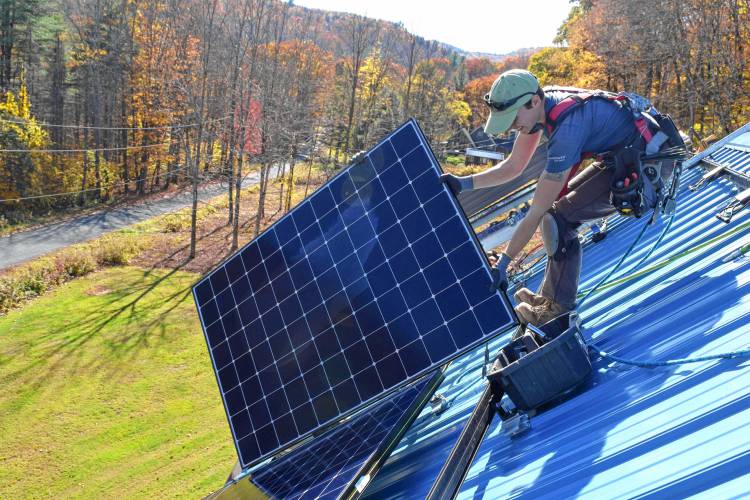 In the second article, Elliot and Emily on our installation team discussed their experiences as solar electrician apprentices.
Read the full article here.
---
Celebrating 19 years
PV Squared's 19th anniversary is right around the corner on May 29th, 2021!
Our Cooperative was founded back in 2002 by four people, and has since grown to almost fifty today. We are so thankful for our employees, worker-owners, clients, and the community for supporting us for nearly two decades.
---
Bostwick Gardens is solar powered!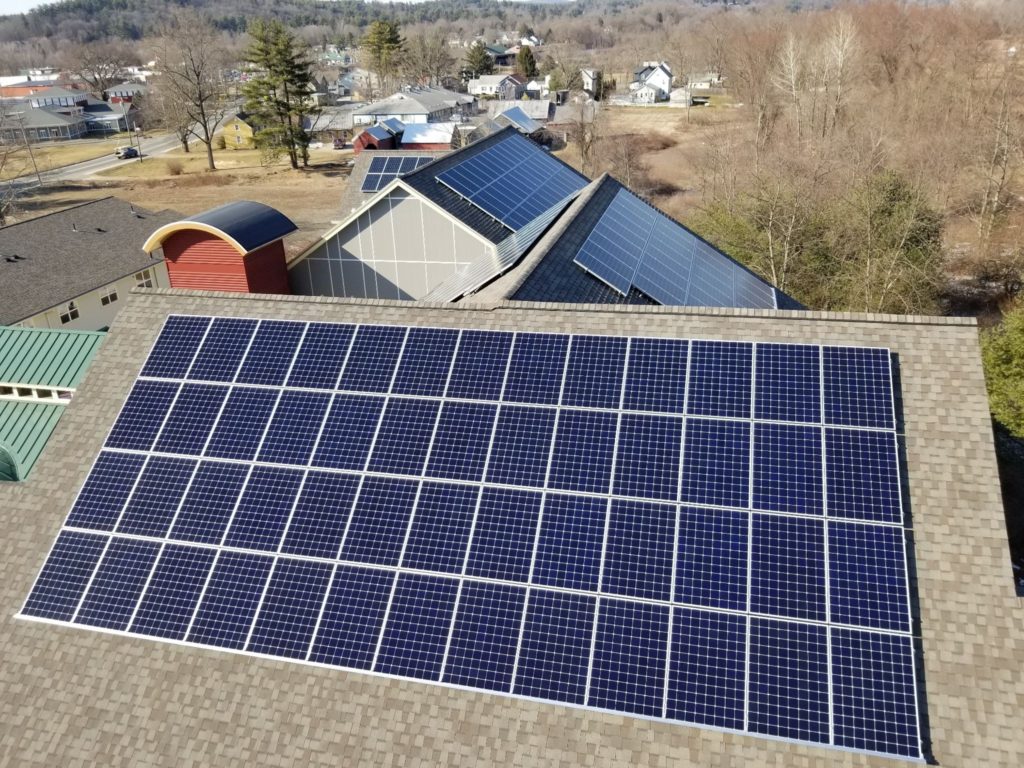 PV Squared installed a 76.56 kW PV system for Bostwick Gardens in March. This system is estimated to offset 124,000 pounds of CO2 per year, which is equivalent to CO2 emissions from 6,300 gallons of gasoline consumed and 62,000 pounds of coal burned!
Bostwick Gardens is an affordable apartment complex located in Great Barrington, MA.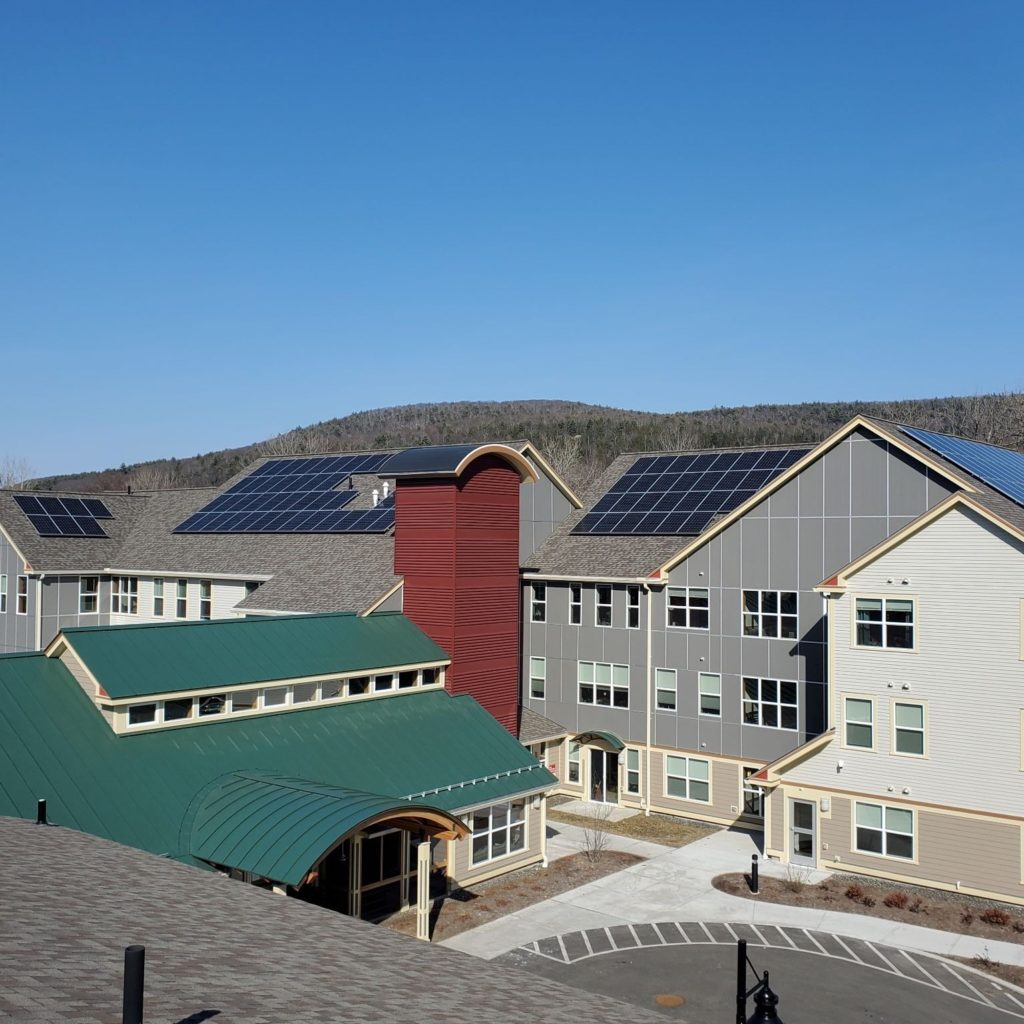 ---
Recent Residential Solar Projects
Check out some of our most recent residential projects around western Massachusetts.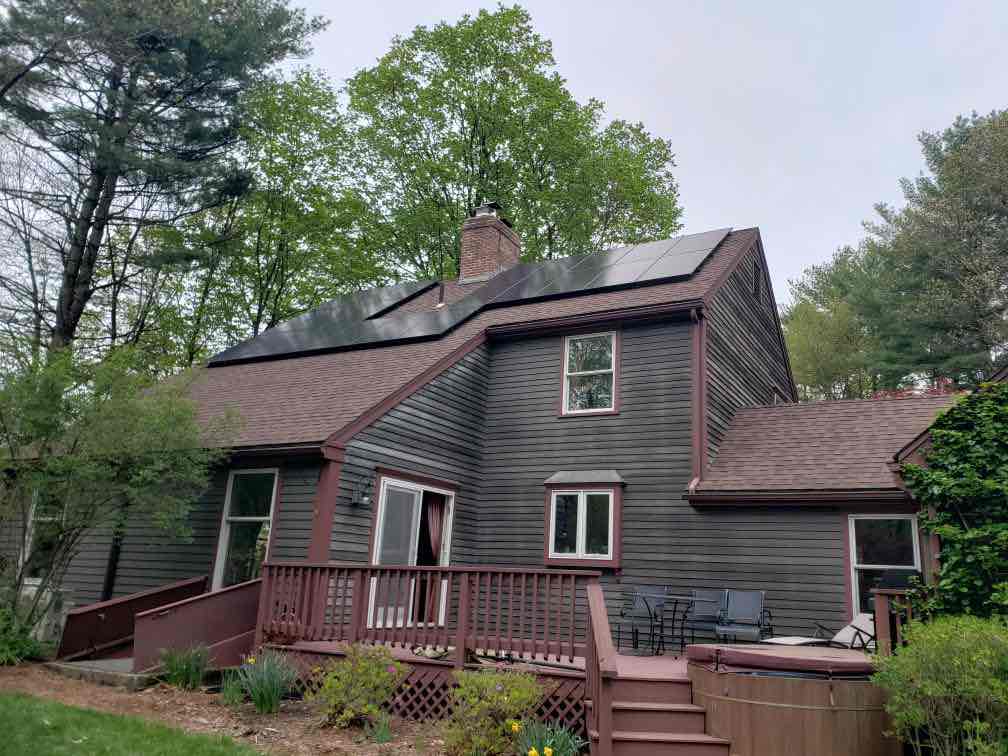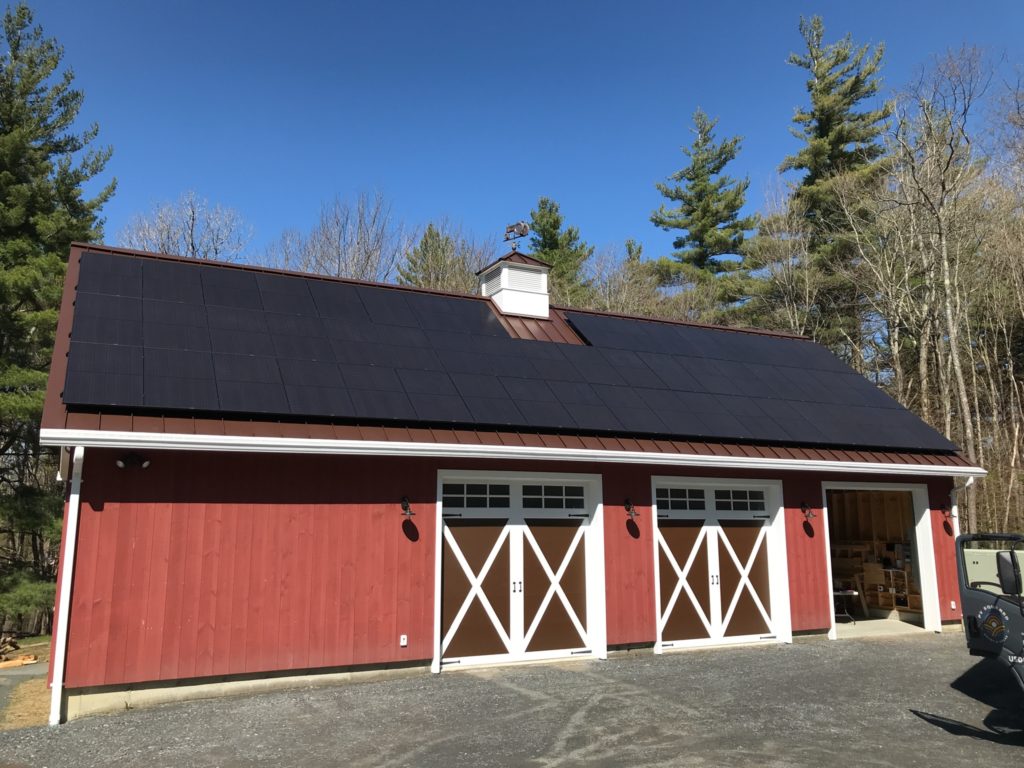 ---
Solar Investment Tax Credit extended at 26% for two additional years
The federal income tax credit on solar and solar+storage projects has been extended for two years and will remain at 26% in 2021 and 2022. This is great news for the solar industry, and our team is here to help you with your future solar project!
---
If you have a free moment…
Please consider leaving a quick review on Google.
Online reviews are really important to help us grow our business and connect with more people who are interested in exploring a solar project.
Thank you, we really appreciate it!
---
Meet Our Coop
We started sharing employee spotlights on our social media pages and will continue to do so until we've featured our entire team. Here's a brief recap of the employee spotlights we've shared so far. Follow along on our social media pages for more weekly #MeetOurCoop updates!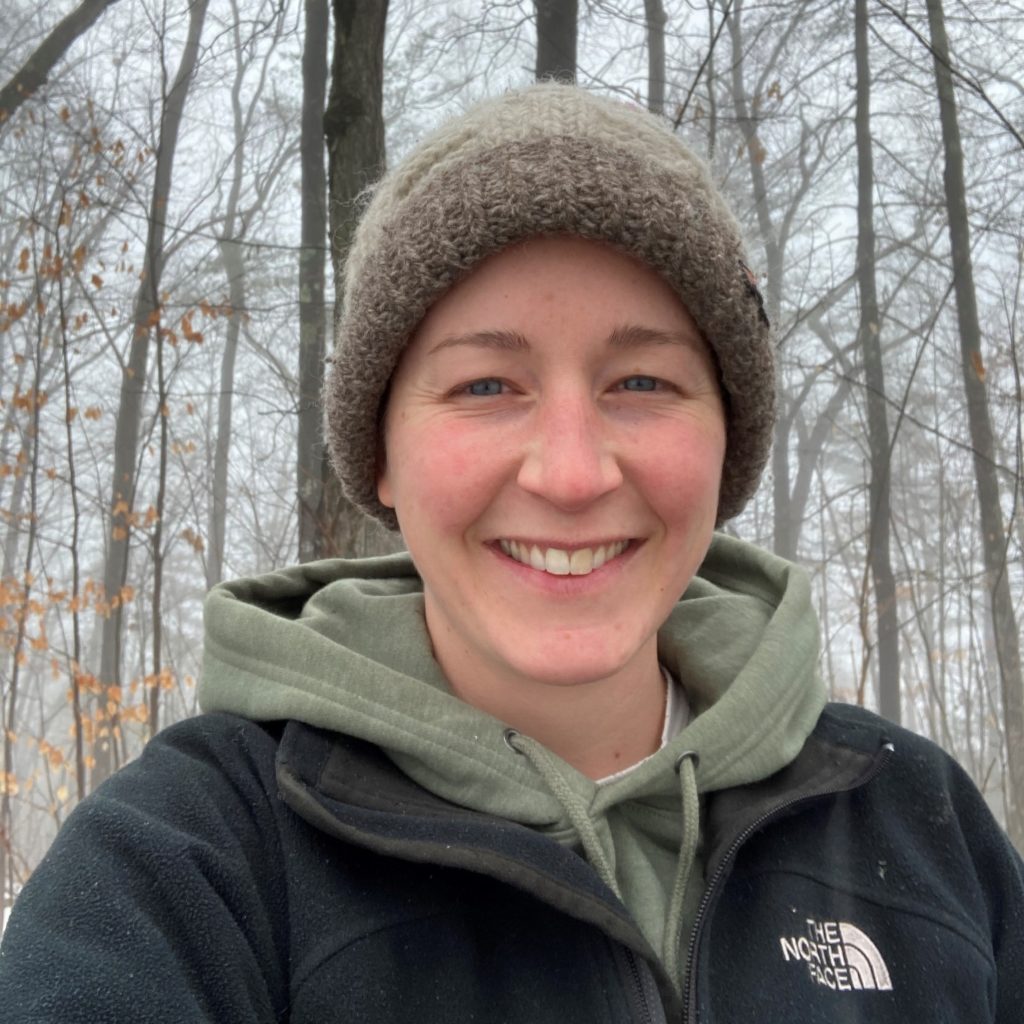 Meet Xena, one of our Solar Installer Apprentices.
"Working for PV Squared has been a game changer for me in so many ways. I value the amazing people I work with and the opportunities I have here to learn new skills and grow my career. The environment at PV Squared fosters positive change, personal growth, and a healthy work-life balance. Outside of work I like to hike, swim and explore New England. I'm learning to love the winter by cross country skiing and ice skating."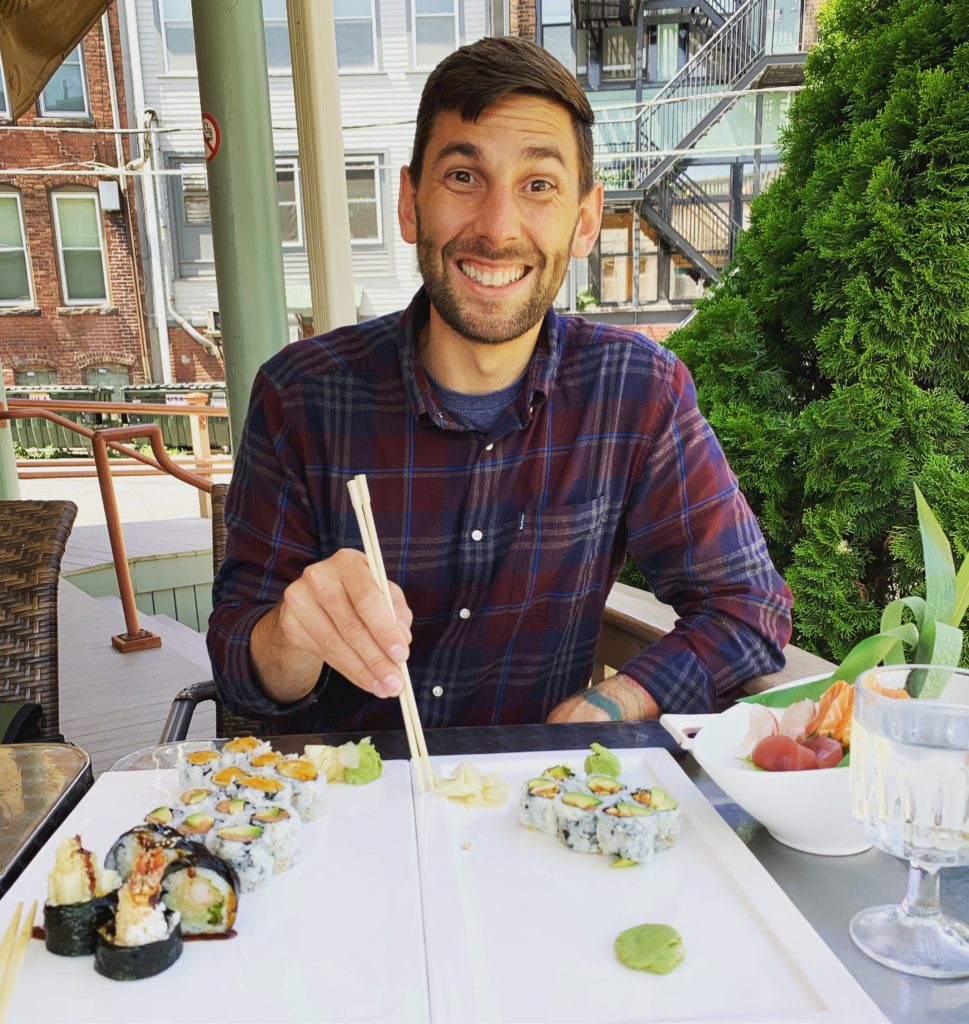 Meet Jonathan, our General Manager.
"As the General Manager for PV Squared I've got the pleasure of having my toes in nearly every aspect of the Coop's happenings. Every day is unique and brings all sorts of challenges and opportunities to improve processes and workplace satisfaction. I consider myself the universal 'bench player', always at the ready to support others in meaningful ways. Working at PV Squared is much more than a job – it has helped me become a better human being. Practicing workplace democracy through the alignment of cooperative and inclusive values has provided me the tools I need to grow personally. Outside of work, I'm most likely to be found walking in the woods with my partner and dogs or hanging out in the kitchen cooking up a delicious meal."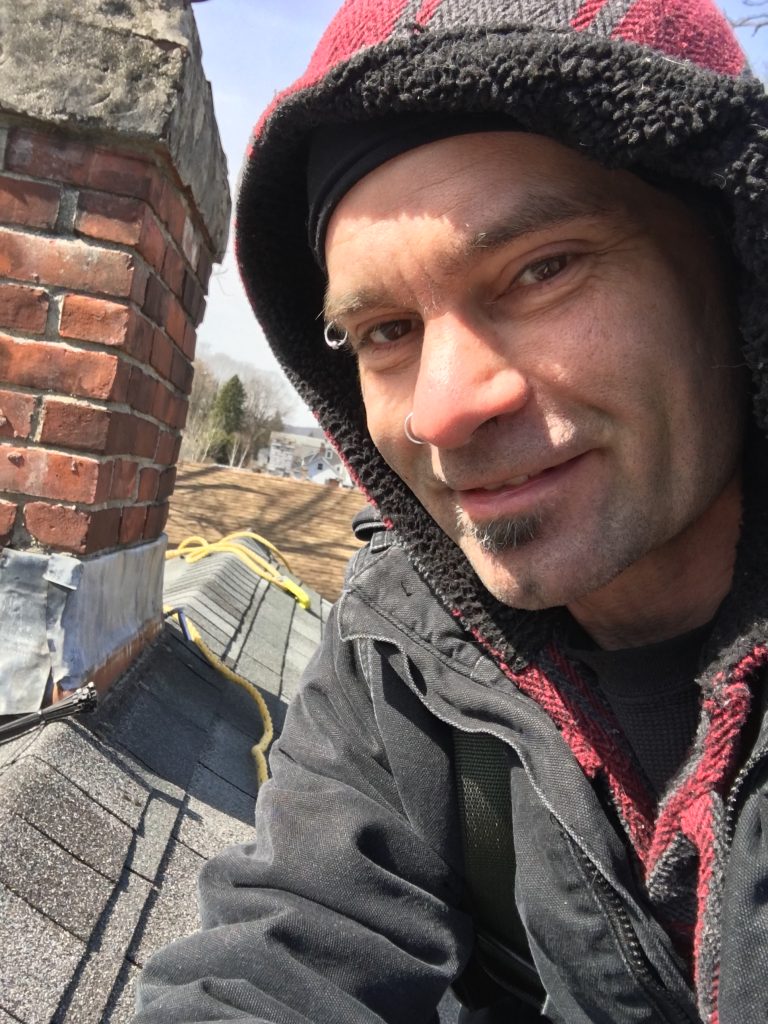 Meet Michael, one of our Service Project Managers.
"I have been involved with cooperative businesses for most of my adult life. I believe very strongly in decentralized, autonomous organizational structures that are non-coercive and are driven by the needs of those who run the business day to day, and are integrated into and accountable to their community.
Outside of work, I'm interested in Hellenistic Astrology, Tai Chi, Meditation, animist philosophy and cosmology, upright bass performance, XC skiing, sea kayaking, growing vegetables and wildcrafting edible mushrooms, and writing about any and all of these things"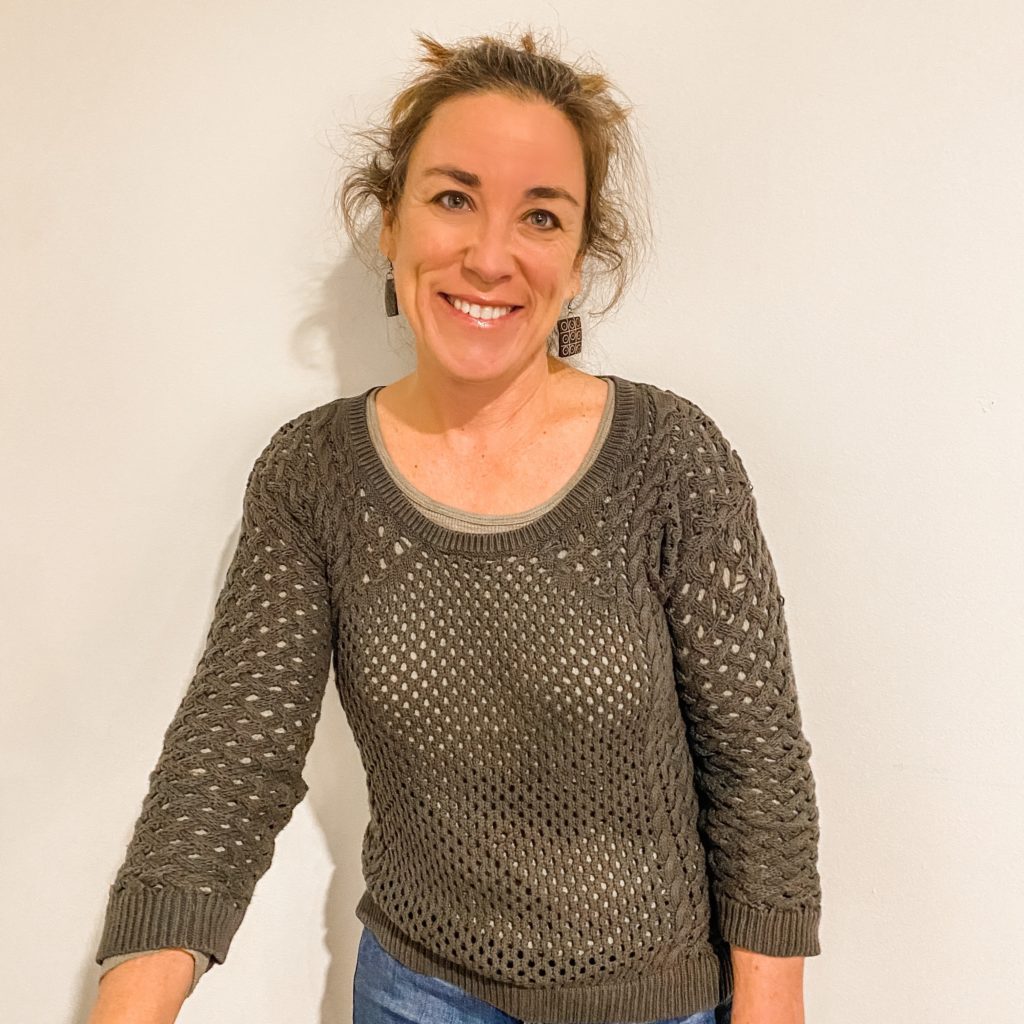 Meet Karen, one of our Commercial (and Residential) Design & Sales Consultants, a worker-owner, and facilitation committee member.
"Being an owner of PV Squared is a deliberate act of putting my time, talent and treasure to work for my values. I have deep respect for every one of my fellow cooperators and am proud to not only be helping our customers address climate instability through renewable energy, but to be doing so as a worker owned cooperative that is also a B-corporation.
Outside of work, I enjoy appreciating the woods and waterways of western MA, writing, doing yoga and Qi Gong, riding motorcycles and agitating about politics with friends.
After George Floyd's murder in 2020, I wrote a book about the 'viral meltdown' Karen meme and hopes it can help to heal the trauma felt by and perpetuated by white, unconsciously complicit, middle-aged women. "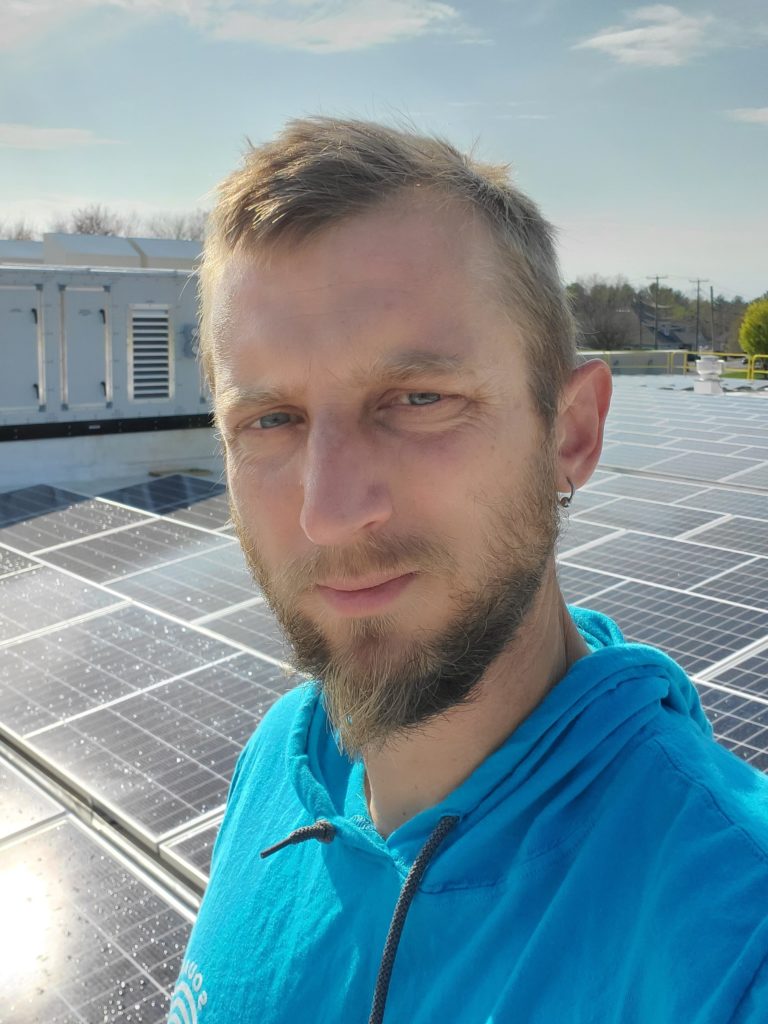 Meet Evan, the co-lead of our commercial installation team, a worker-owner, and the President of our Board of Directors.
"I really appreciate owning a business and working with such a capable and committed group of people. I take pride in knowing that my work supports the mission of our cooperative, provides good jobs in our community, and helps reduce our clients reliance on fossil fuels. I like to think that PV Squared is a model for what a Green New Deal could help create nationally. It is possible to create wealth and business opportunities that take care of our co-workers, our communities, and our environment.
Outside of work, I love to dance, play, hike, cross country ski, ride bicycles, travel, grow food, and spend time with family and friends."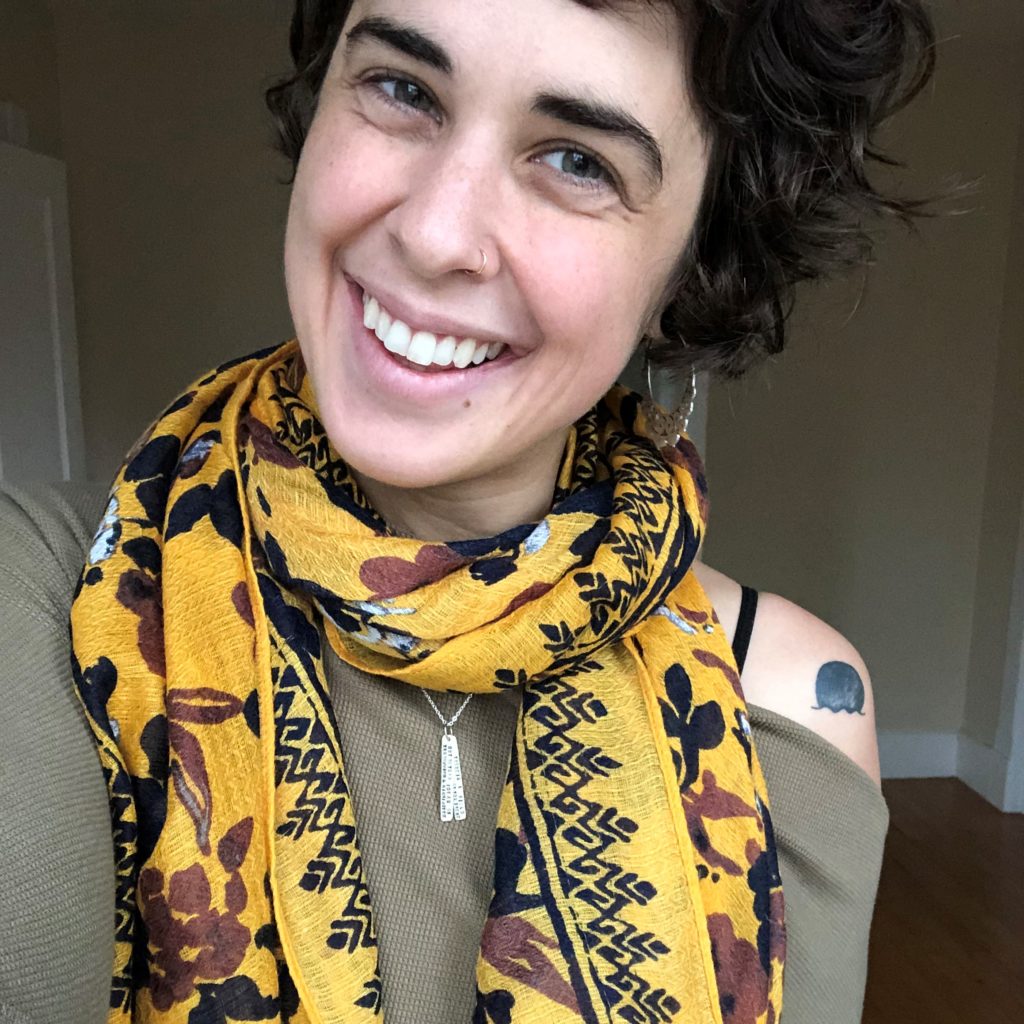 Meet Simone, one of our Residential Project Managers.
Prior to joining PV Squared in 2019, Simone spent time extensively as a woodworker and art curator in addition to working on home renovation, natural building projects, and tiny houses. She has 3 years of art school training in addition to completing a BS in Building Construction Technology from UMass Amherst, and is a native of the Pioneer Valley.
"My favorite part about working at PV Squared are the people! My co-workers and our clients are a pool of great thoughts, aligned values and interesting experiences. Outside of work, I love to be outside with Nature. Kayaking, hiking, spending time with the snow, the stars and in the sun are all medicine for me. I have a deep drive for learning (especially creative pursuits) and using my hands to better know myself and the world: I am currently teaching myself how to work with stained glass. I've done woodworking, natural building, ceramics, wildcrafting, illustration, and was even a tattoo artist – I dream of experiencing and becoming competent in as many real-world skills as possible."
---
We're Hiring!

We are currently hiring for the following positions:

– Design & Sales Consultant
– Freelance Solar Installer Electrician
– Solar Electrician
– Service Electrician

Please spread the word to anyone who might be interested in applying to these positions.
---
The featured non-profit in our Spread the Sunshine Referral Program is Pioneer Valley Habitat for Humanity
All referral program proceeds from now until June 30th will be donated to Pioneer Valley Habitat to help build affordable homes in western Massachusetts.
If you haven't checked out our referral program yet and/or know someone interested in going solar, head on over to our referral page to start Spreading the Sunshine!

---
If you have a free moment…
Please consider leaving a quick review on Google or Facebook.
Online reviews are really important to help us grow our business and connect with more people who are interested in exploring a solar project.
Thank you!
---